SAL 6000 Chemistry & Immunoassay Integrated System delivers fast throughput and seamless integration of CL-2000i Chemiluminescence Immunoassay System and BS-800 Modular System. In conjunction with the SPL 1000 Sample Processing line, this scalable platform not only provides optimized workflow, it also offers satisfactory operator experience.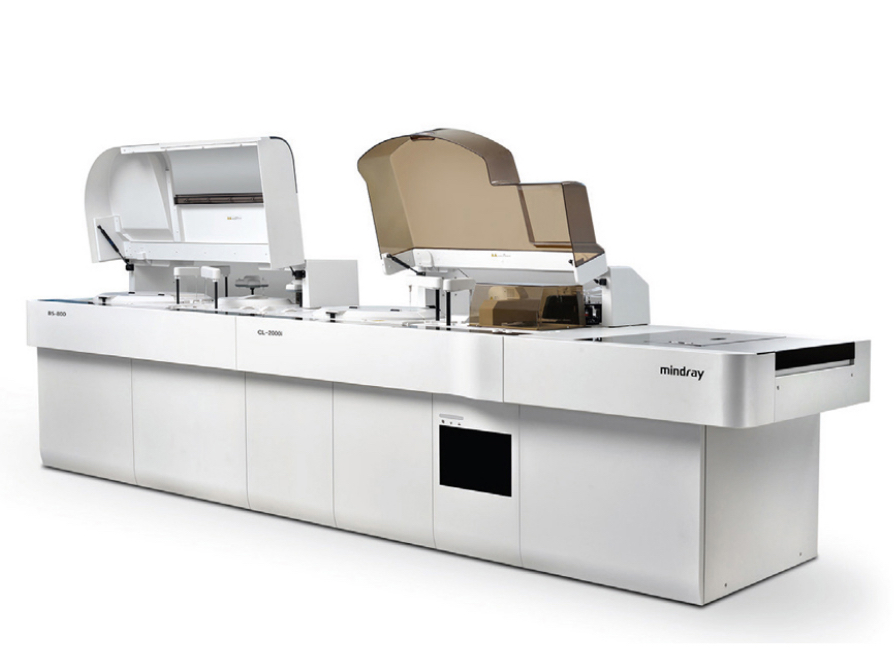 Intelligent Modules Integration
CL-2000i Immunology Module
Up to 240T/H

36 reagent onboard positions

Long walk-away time

Non-stop loading of reagents and consumables

70 parameters available so far
BS-800 Chemistry Module
Photometric 800T/H for routine chemistry, up to 1,200 T/H with ISE

120 reagent positions and 140 reagent positions by carousel

HbA1c onboard auto-hemolysis

Intelligent real-time monitoring system

Complete traceability detecting system
SPL 1000 Sample Processing System
Unique Design, Effective Distribution
Uniquely designed rack delivery mechanism with manipulator assembly

Random access and efficient sample racks distribution

Quick response for STAT, Auto-rerun and Reflex tests
Efficient Wash System
Interior & exterior probe wash with high pressure water
Programmable enhanced probe wash with detergent
Efficient cuvettes and mixers washing for chemistry module
Precision control on the tubing system for washing liquid
Chemistry and immunoassay Integration
Optimize your lab's customized arrangement with better system automation and labor-management
Stable Temperature Control
Proven precisely controlled thermal engineering
Solid-direct heating technology for reaction cuvettes without any liquid
Stable temperature control for reagent cooling compartment
Stable Temperature Control
User-friendly interface
Intuitive software navigation
Large command keys simplifies easy touch screen operation
Original Manufacturer for Reagents and Instrumentation
High precision hardware
Premium quality reagents
Complete traceability
Dedicated standardization & traceability laboratory
Related Product
BS-430 Is A Perfect Solution For Small To Mid-Workload Laboratories Which Need A One-Stop Chemistry Solution With High Reliability And Cost Efficiency

Mindray enzymatic HbA1c gives reliable and cost efficient result with the first measurement and reduce further confirmations.